I plan on this being a 3 part review series. I wanted to get some information up ASAP for those considering these rifles. This will cover my first impressions. Unfortunately, it doesn't look like I can get out to shoot until this weekend, so the range report is going to have to wait. After that, I want to do another shorter post on how I'm going to personalize the rifle. Also please bear with my sub-par photos, I'm still trying to get back the quality I used to be able to achieve in my magazine writing, but it is going to take more practice, time, and equipment.
Ordering
: I ordered my M10-545 from
Atlantic Firearms
. They were professional and helpful through the whole process! They definitely are a premier AK retailer. Their knowledge of AKs was quite evident through my conversations with them. Their product selection and shipping was great as well.
Packaging
: I have a minor gripe here. The flash hider cut into the shipping foam in the factory box and foam went all over the rifle and in the flash hider. Again minor, but it needed some cleaning to get off the small foam pieces, some of which partially obstructed the bore. Atlantic added another box over the
M+M/Colorado Guns
factory one for shipping. Besides the rifle and the magazine, the only accessories included where the manual and rail covers.
Receiver
: The receiver is typical Romanian. It has a decent Parkerized finish. Even though the Parkerizing has flaws in places, it is better than my first WASR10/63. Saigas' finishes typically look better but isn't as durable as the Parkerizing.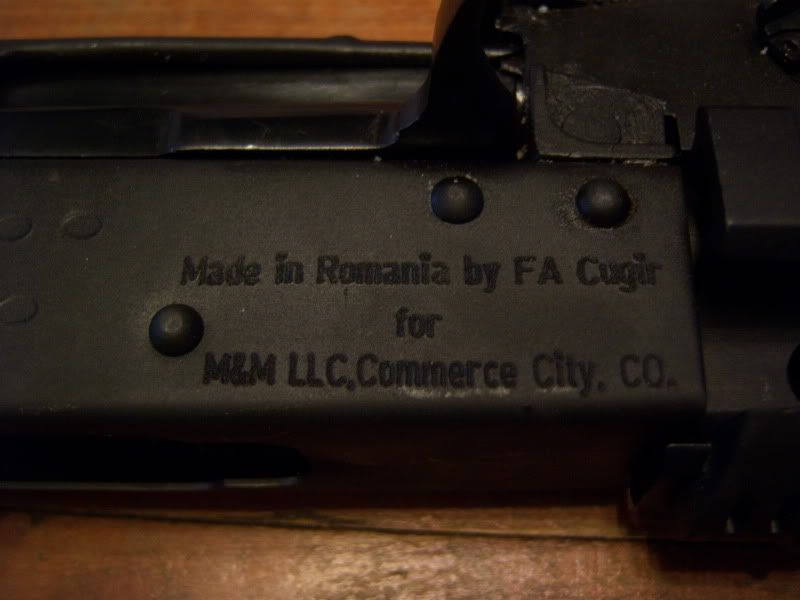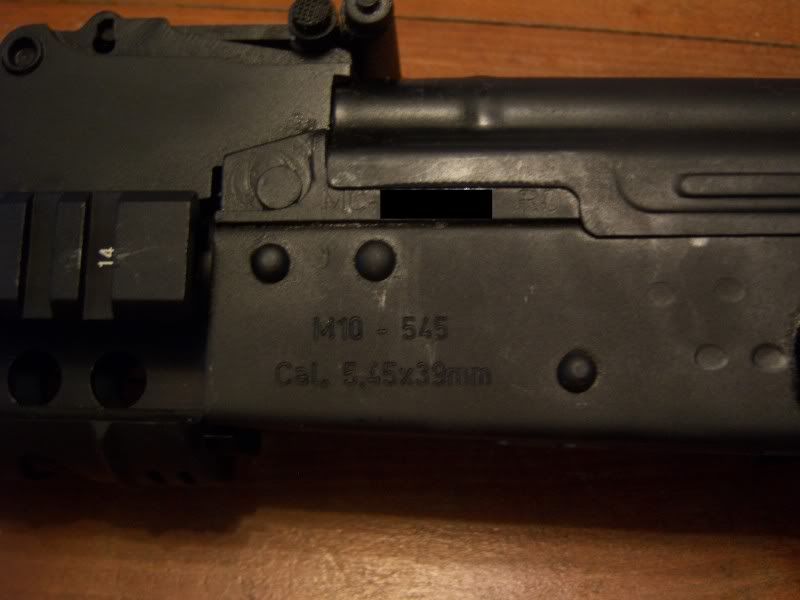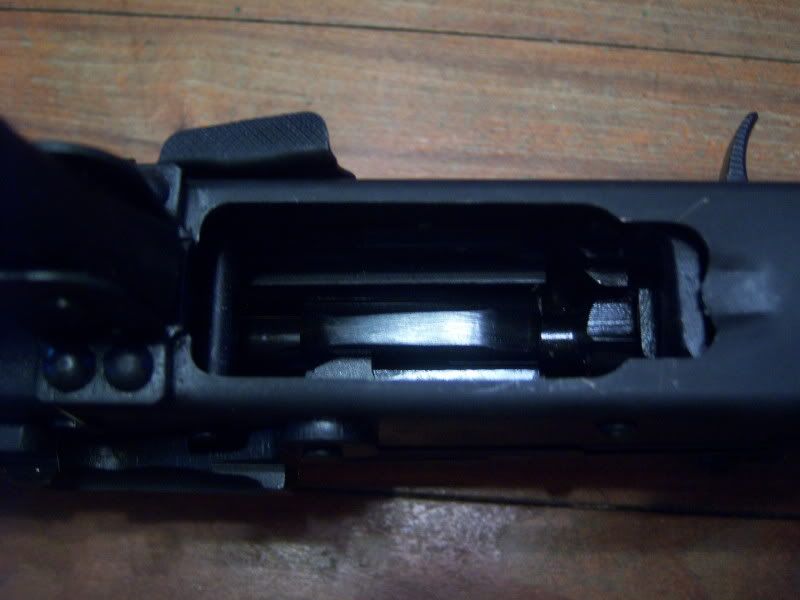 The magazine well has a very straight and clean cut. This is important because these rifles, both the M10-545 and M10-762, are imported into the United States as single stack rifles to avoid 922r and then M+M widens the magazine wells for the double stack and adds the US parts. On the M10 these cuts are done with CNC machining and looks to have much better results than the Centruy rifles. While there isn't as wide of range of 5.45 magazines, all of mine fit without issue in the M10-545. There are a much wider range of 7.62x39 magazines, so I can't 100% speculate that all magazines will fit in the M10-762, however if the CNC cuts are the right size they should have a much better chance. My WASR10/63 had to be dremeled out to fit my Circle 10 magazines due to the bad cuts.
EDIT:
I received my Tapco magazine yesterday and was surprised to see that it would not latch fully. Went back through my magazine which are mainly "Bulgarian" ones that most people believe are actually sanitized Russian. They had a layer of black paint but after that was removed most are plum with definite grind marks where the identification markings would be. These fit fine, as does my true Bulgarian Circle 10 surplus (not waffle) did, albeit tight at first. My single Circle 21 surplus, however, is worse than the Tapco and doesn't come as close to latching.
This thread over at AR15.com
has a post of someone else with magazine issues and mini review as well. More on this after I get to shoot it tomorrow.
The receiver also has two shims inside the magazine well to make up for the lack of dimples that are usually present on AK receivers to prevent
some
magazine wobble. I am a believer that a little side to side wobble is a good thing, and the M10-545 has that. It is a relatively clean receiver with not much cosmoline in the nooks and crannies. The standard Romanian side rail is firmly attached as well. Overall, it looks to be a good receiver with no major flaws.
Barrel
: The barrel is chrome lined. I'll take M+Ms word for it that it is hammer forged and made in Romania. That alone was part of the reason why I wanted this rifle in 5.45x39. Currently, my other 5.45 is a Century Bulgarian parts gun built with a U.S. Nodak receiver and a U.S. made barrel. While the Nodak U.S. receiver is great, the U.S. barrel is non-chromed lined so it takes extra attention when shooting surplus 7N6. Also the U.S. barrel is softer steel so I expect it to shoot out quicker (mine has no keyholing issues that some have reported off and on since the first batch of Century Tantals that had 5.56 barrel diameters with 5.45 chambers). The barrel on the M10-545 should be long lasting and accurate.
Threading on the barrel is 14x1mm LH, the typical AK threading, which is unlike a lot of 5.45x39 rifles that use the larger 24mm front sight block threads. For a rifle that already is breaking the norm from traditional AK standards, I think this is good thing. Although lot of people like the effective 24mm 5.45 brake, there are far more 14x1mm LH devices out there.
The muzzle device is now different on the M10 series. It is somewhat similar to the Tapco Razr that they had on the original rifle. However, rumor has it that these where having problems with the longer prongs, so M+M sourced their own design. It has four shorter prongs and more circular ports than the Tapco. I prefer the looks of the shorter prongs more than the Razr's. Like the barrel, the range session will be the true test for it. These unfortunately do not seem to be marked in anyway: M+M does claim that they are U.S. made. The flash hider is quite firmly screwed on, I even asked Colorado Guns if it was soldered. Apparently it is just torqued on really well (remember though if you take it off, righty loosey on these reversed threads).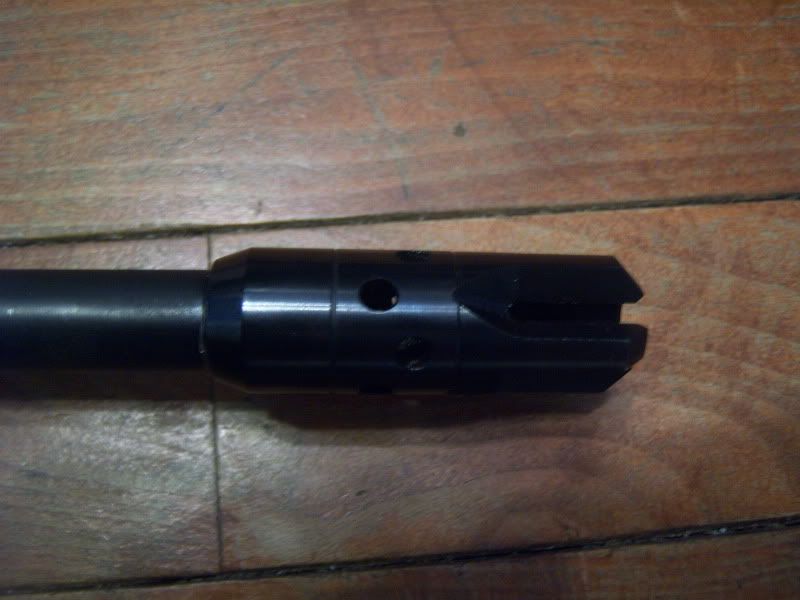 Sights
: As advertised, the M10 does have windage adjustable RPK style rear sight. This gives the user the opportunity to adjust from zero for wind conditions on any given day which is very hard with normal AK sights. While the rear sight is a definite plus, the unfortunately front sight/gas block is canted. This could be a bigger issue than a standard AK since the front sight is also the gas block. Normally canted front sights don't bother me if I can shoot to point of aim or fix the cant myself, which can easily be done. Front sight cant is common in some AKs and happens in other rifles like AR15s. But since this one is also the gas block, we will have to wait and see at the range if the sight is canted off far enough to interfere with the gas port and cause cycling issues (I bet that it will run fine, but I can't be for sure yet). It looks to be boresighted though since the front sight is inline with the rear and not centered in the full circle hood. At least the RPK rear allows for a choice of which sight to set for windage. If the function is fine, I will have the additional option of adjusting the rear sight for the cant and centering the front sight post which results in a clearer sight picture that a lot of people prefer.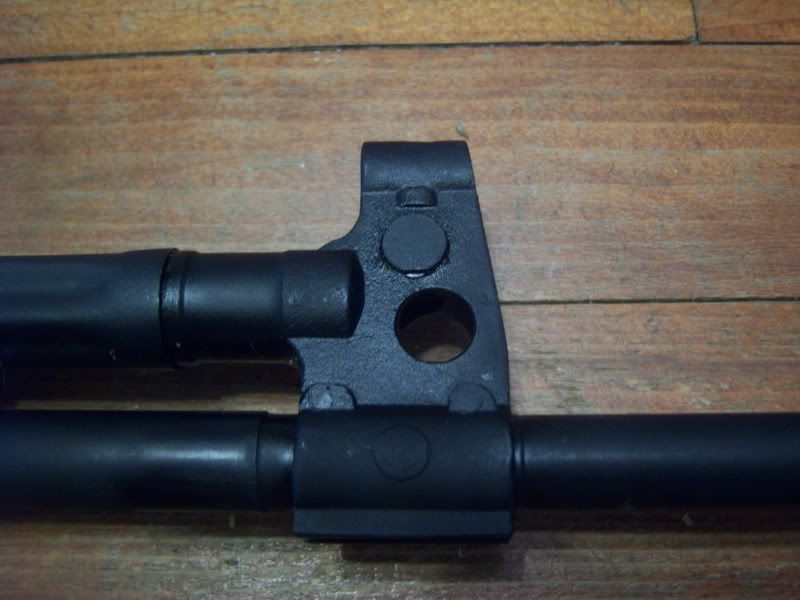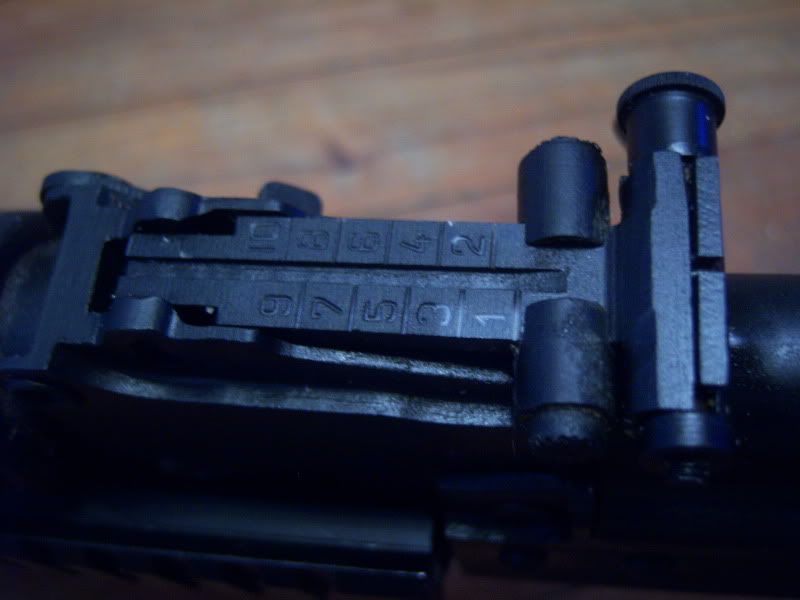 Controls and Internals
: The safety, magazine release, and bolt handle are standard AK. The gas piston is tight on the bolt carrier instead of having the traditional looseness which is a design
feature
of Kalashnikovs. Often times though the piston will shoot into a little bit of a wiggle after a few hundred rounds or so. The wobble will be desirable because it will allow the piston to line up better into the canted gas block if the port is open enough. The bolt/bolt carrier run smooth enough and it doesn't bind on the gas block which is a good sign for function overall. However, there is some oil that collects where the piston is contacting the gas block slightly. I'll watch this area for excessive wear until the piston wobble develops or I fix the front sight cant. The bolt and bolt carrier have matching serial numbers to the rifle's receiver. Like most 5.45x39 rifles there is a bullet guide that is riveted to the front trunnion to assist in feeding. The trigger and rest of the fire control group is a Tapco G2, which is a good option and counts as 3 U.S. parts. A Tapco retainer plate is included as well for quick detail disassembly and better service life than most wire retainers. I currrently use either Krebs' plates or Chinese style L wire retainers now and so it will be interesting see how the Tapco plate does compared to them.
Furniture
: The M10 starts with a Tapco buttstock. This is an epitome of what Tapco usually does, it is a middle of the road quality, U.S. made product. While solid with a sling swivel, its metal buttplate does not have a trapdoor for the standard AK cleaning/tool kit like K-Var or surplus. Yes, a K-Var or even surplus stock would be a little better quality, but for a lot of users the Tapco stock will be adequate and is an improvement over some other options (plus there is no buttstock kit included).
While the Tapco stock is somewhat average, the Hogue grip is excellent! As a self-declared US Palm fanboy, it is hard for me to say that the Hogue grip might be becoming my favorite AK grip or at least on par with the US Palm grip, check out the
AK Grips Guide
for more info on the two. One minor detail is that if you want to use the storage space in the grip you will have to order the grip door from Hogue or another retailer. But it is still a great choice of grip for this rifle.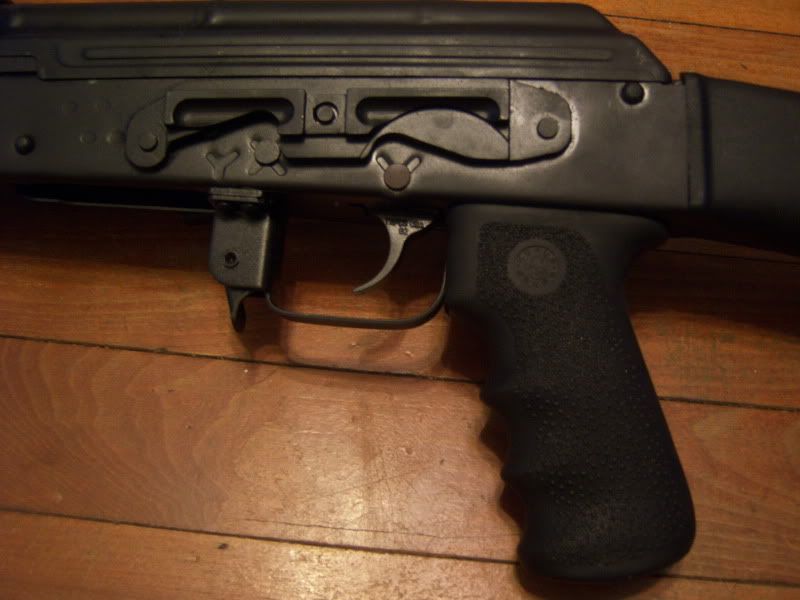 The M10s more tactical look is largely due to its aluminum railed handguard. This looks to be a direct copy of the
UTG/Leapers handguard
but without part of the top rail that goes over the gas tube (which a lot of people don't like aesthetically anyway). It would not surprise me if M+M uses the same Chinese OEM supplier that UTG/Leapers does for their handguard. However, M+M went the extra mile and has "M+M" engraved on the handguard and the molded into the rubber rail covers. While one of the lower end aluminum rail systems out there, this design has a lot of proponents. I have handled these before, but this will be my first range experience with them so I'll wait for actual live fire before I comment more on there functionality. One bad issue us that my handguard is actually missing two screws. It looks like maybe the builders only put on two corners to secure it and then forgot to other two. After calling Colorado Guns about it (without mention of a review), they apologized and told me they would send the screws out to me immediately. Hopefully the screws will be here before the range session.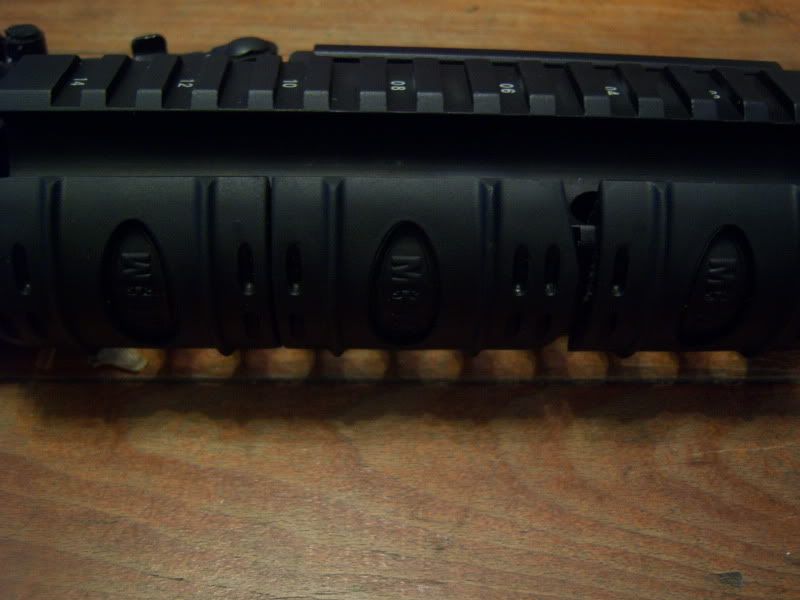 Another new option on the M10 series is the Romanian wire folder stock. This stock has been my favorite option for a drop in folding stock for standard AKs (metal triangle AK74 and polymer AK100 maybe better but require a receiver and trunnion that will take them). I am happy to see these being offered as an option and after the range session of the as delivered M10, I will be switching out to a wire folder that I already have.
Magazine
: Included is a single ProMag 5.45x39 30 round magazine. These magazines are the cheapest 5.45x39 option available for AKs and their feel reflect hat. I would guess that the body is ABS plastic, as is the floorplate. My current opinion is that even the non-metal lined Tapco magazines are better. However, I will give the ProMag a chance along with a Tapco 5.45x39 magazine and my current surplus mags for comparison at the range. While the ProMag magazine is 3 U.S. parts for 922r, M+M went the extra mile and didn't count them. This means that out of the box you have no problems using Combloc surplus magazines, which you will need a few anyway since only one magazine was included.
Final Thoughts
: The M10-545 looks to be a good entry level AK. It has some noticeable upgrades from it competitors like WASRs or DIY Saiga conversions. I would be somewhat surprised if the front sight cant does effect functioning, but there is a chance, as is a lot of problems that could pop up at the range. So I'm reserving an all out recommendation until I get some rounds down it.
Disclosure
: Atlantic Firearms gave me a discount and T-Shirts when I reached out to them about buying a rifle for a review (the T-Shirts rock and I'll be wearing one or both at the range). I do feel that they are an excellent retailer whose reputation is well known. The discount will also allow me to get a review in on the M10-22 as well. If you disagree or agree with that, you are more than welcome to post in the comments your opinions. In the end, they are a company that I believe in, as do with many other customers in the AK community. I am proud to say that I am associated with them in this small way.
Part 2: Range Report Here