I've noticed I've talked about this bag a couple of times here and I think it's time for a review. In general, I'm going to start reviewing some gear I have on hand. With a new daughter and another one that is 3, I'm a little cash strapped with medical bills and child care so there won't be too much brand spanking new gear reviewed (unless I add advertising/tip jar to the blog that would go directly to buy gear for review). However, I do have Hogue forend and grip on the way which I'll review. When I can swing another $100 after that, I'm going to try to do the Manticore Nightbrakes. I also want to do the updated version of the Midwest Industries Iron Dot style rail with a Primary Arms Microdot, but that is going to be awhile, at least a couple of months. So with that housekeeping out of the way, on to the review.
The
Hawkepak's
Civil Defense Survival Kit (CDSK)
bag definitely has a long name elluding to a lot of functionality. It is an improved, more modular version of Hawkepak's MA-54 bag. The concept behind these bags according to their supporters, like Gabe Suarez, is that you can carry all of your rifle fighting gear in an inconspicuous manner. It is often called a Fighting Bug Out Bag or a Sneakybag (which is also the brand name of bags that was sold by Suarez, made by Dan Agakian).
Often people that don't subscribe to this method point out that a rifle is a pretty obvious object to be carrying so you might as well use a chest rig, vest, or belt system instead. However, there are ways to conceal a rifle as well, especially a folding stock AK (I'll cover some of these in another blog post). I more subscribe to the Fighting Bug Out Bag theory since I would plan to use it in more of a way to escape a bad catastrophe without using the rifle if possible. It is a part of an overall bug out system of bags and clothing that if enough people are interested I can post on. If things get really bad, I do have my US Palm V1 Chest Rig, but for me as a civilian with a family to protect I feel the fighting bug out bag makes more sense in the rare very situation I would have to use either outside of the range.
Hawkepak's first bag in this market was their
MA-54 Rifle BugOut Bag
. It has been a popular option for a lot of people. LaRue at one point even sold an embroidered version. I owned a variant of the MA-54 for a while called the Recon bag. Its only difference from the MA-54 was that it had a larger flap. Overall, the Recon bag along with my customer service experience from Hawkepaks convinced me that they put out a great product and stand behind it. When the CDSK bag came out it offered some improvements over the Recon bag so I sold it and upgraded.
The CDSK bag is made of high quality nylon, my guess would be 800 or 1000 denier. The stitching and construction are up to par of the materials. There may be some products that have a little better finishing out there, but Hawkepaks are still well constructed, especially for being made here in the United States. I chose the gray color bag since it isn't a normal "tactical" color.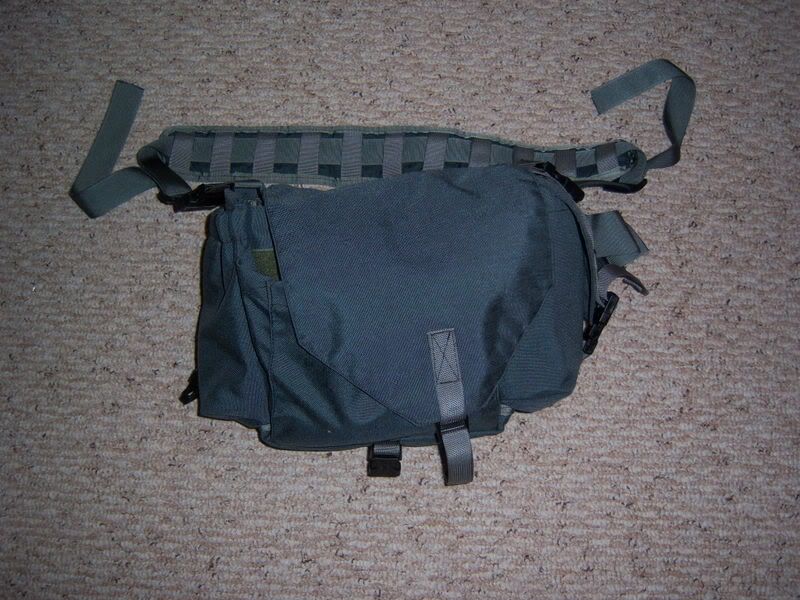 The layout of the CDSK makes it quite functional and easy to use. The bag has a large main compartment, two water bottles on the sides of the bag, and a smaller front compartment. Between the front and main compartment there is a large, velcro closed slip pocket. There are also two slip pockets between the main compartment and the water bottle pockets. On the back of the bag there is a carry handle and sleeve pocket that will store and conceal the waist strap. On this sleeve there is another slip pocket, not to mention the other two small zippered pockets on the waist strap! With all this storage space and organization options, it actually can tempt you to overload the bag with knickknacks you don't need.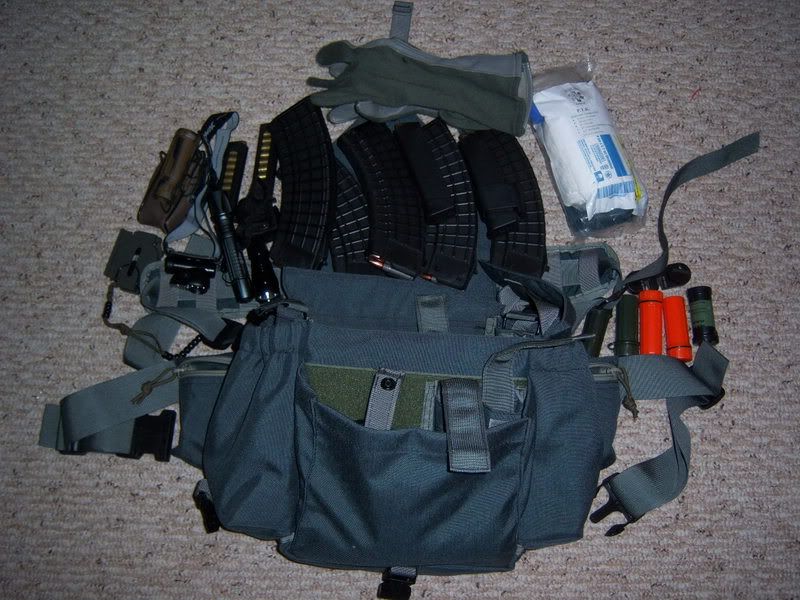 Speaking of organization, the bag also includes veclro backed rifle magazine elastic holder, a thumbbreak hoslter, 2 double pistol magazine pouches, and a divider. These can be used on the bag's three velcro walls. One is in the outside front pouch, the other two are on the longer sides of the main comparment. The outside velcro field on in the main compartment is also MOLLE webbing. All of these combine to make the inside of the bag very modular and customizable. On top of that, Hawkepak's includes the velcro backed accessories unlike most competitors.
One of the common complaints on with the MA-54 is that many people, including me, don't like is the weight of the rifle mags being on the outside of the main compartment pouch. In
Hawkepak's CDSK pictures
, they show the magazines in the outside pouch, but you can actually reconfigure the bag to put the rifle magazine pouch on either longer side of the main compartment as well. While this may make the magazines slightly harder to access, the bag carries better since the weight of the magazines are closer to your body. It allows you to choose what you like with this design. Overall, this highlights one of the improvements of the fixed external pouches on the MA-54. They are now more concealed, movable pouches.
To give you an example, this is how I load my CDSK currently for emergency use (it also makes a great range bag when I pull some of this stuff out). The main compartment has 3-5 Bulgarian Circle Ten waffle 30 round 7.62x39 rifle magazines in the rifle magazine holder on the side closest to my body. The number varies depending on how heavy I want to load the bag and they all have Magpuls on them to help get them out of the bag. I also have a couple of lightsticks and MOLLE clip light in the webbing. The divider has been attached to the MOLLE/Veclro side to function as a small pouch where I keep a smoke bomb. The side slip pockets hold a CRKT Crawford Falcon in one and CR123 batteries in the other (these pockets also hold rifle magazines nicely, they can just be difficult to get out). The outside compartment has one double magazine pouch and holster. This is were I put my M22 pistol and magazines, since I plan on having my EDC pistol and magazine on my belt. There is also 2 boxes of .22 LR in the bottom of the pouch for the M22. The velcro topped slip pocket between the main and outside compartment contains my weapon maintenance gear. My Mechanix gloves are in the back slip pocket on the waist strap holder. I keep a set of WileyX SG-1s in a hard case clipped to the metal shoulder strap attachment loop. It will also fit nicely in the front water bottle pocket, but I normally keep that empty as a dump pouch. It functions well as a small object dump pouch, but don't expect it to hold more than 1-2 rifle magazines. However, the main compartment normally works well as a rifle dump pouch as well. I keep my trauma kit in the rear water bottle pocket, which consists of a Calvary Arms ITK, EMT shears, and a C-A-T tourniquet. The waist strap pockets normally hold small objects like ear plugs and a compass.
One of my minor gripes about the bag is the shoulder strap pad. It always seems to shift around and then bunch up a little to easily. In some ways, the movement of the strap through the pad is a good thing because it allows the bag and strap to move with the pad staying in place on the shoulder. When it doesn't bunch up, this is a nice feature because it makes the bag more stable and comfortable. But I'm untwisting and unbunching the strap pad a lot as well. It probably doesn't help that I keep an Energizer Hard Case light on one of the strap pad's MOLLE sized ladder webbing.
Customer service at Hawkepaks is excellent. With my original Recon bag, Ed Hawke answered some questions about it quickly via email before my purchase. Unfortunately, then I did have some velcro pull loose on the inside of the Recon bag. Mr. Hawke apologized and offered free repairs and I sent the bag back to him. He then sent it back with shipping on his dime and included some nice freebies, including a nice ditty bag, to make up for the my minimal shipping cost to him. My CDSK has held up very well, but I did have another minor mixup with it when I got it. The retailer that I purchased it from had a shipment of bags that only included one double pistol pouch. I emailed Hawkepaks about the issue. Again, Mr. Hawke emailed back quickly with an explanation that a new employee prepared that shipment didn't know that there should have been two and he then offered to send me out the missing one. Again, when it got here it included a couple of freebies, a small knife and carabiner.
I highly recommend Hawkepaks and their Civil Defense Survival bag. I don't think you can go wrong with their American made gear!
I know this review is light on pictures. I'm going with at first some not so great shots that I have online already, but I'll try to add some more this weekend. I also have some pictures of the Recon bag if anyone is interested.